The Interdisciplinary Microsystems Group (IMG) is a college-wide multi-departmental education and research program of the College of Engineering at the University of Florida. IMG operates under the direction of Mark Sheplak, Hugh Fan, and Saeed Moghaddam of the Department of Mechanical and Aerospace Engineering and Toshikazu Nishida, Huikai Xie, David Arnold, Y.K. Yoon, Jack Judy, Roozbeh Tabrizian and Alexandra Garraud of the Department of Electrical and Computer Engineering.
IMG research focuses on micro- and nanosystems for healthcare, energy, security, aerospace, transportation, consumer electronics, and other industries. Efforts include design, fabrication, characterization, and ultimately deployment of micro and nanotechnologies for a wide variety of applications.
Read the 2017 IMG annual report.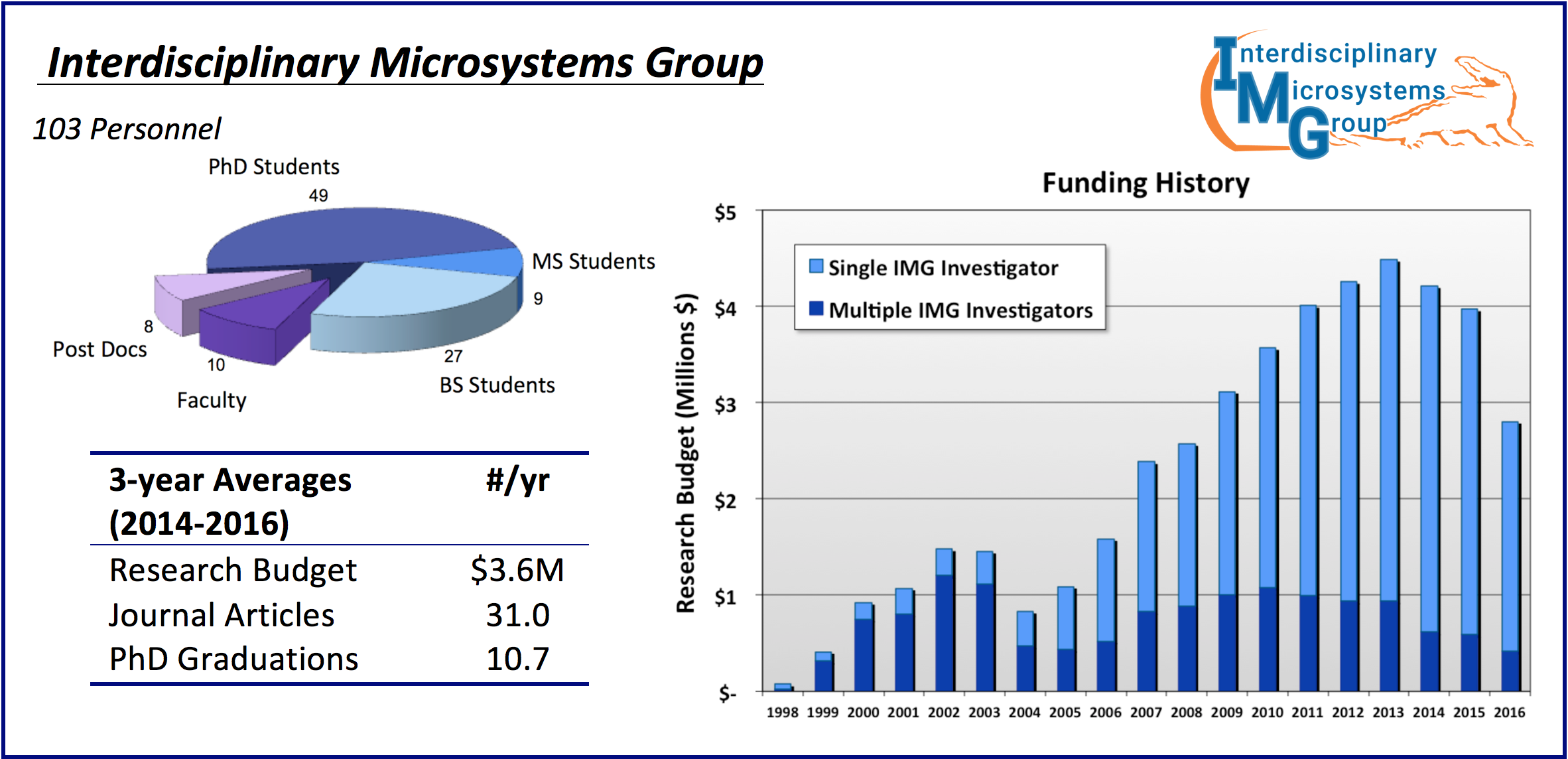 Founded in 1998, IMG has steadily grown in size, scope, and impact. Since its inception, IMG faculty have participated in 255 sponsored research projects valued at $87M (IMG portion was $46M). Of these, 200 projects (78%) were led by an IMG faculty member as PI, and 58 (23%) included more than one IMG investigator. Over the past five years (2012-2016), IMG has collectively averaged $3.7M/year in budgeted research, 34 journal publications/year and 18 conference papers/year, along with 11.2 graduated PhD students/year. IMG has a diverse track record of fundamental and applied research for government, defense, and industry sponsors. IMG's research and graduate/undergraduate student training record have been fueled by true interdisciplinary research and strong internal and external collaborations.